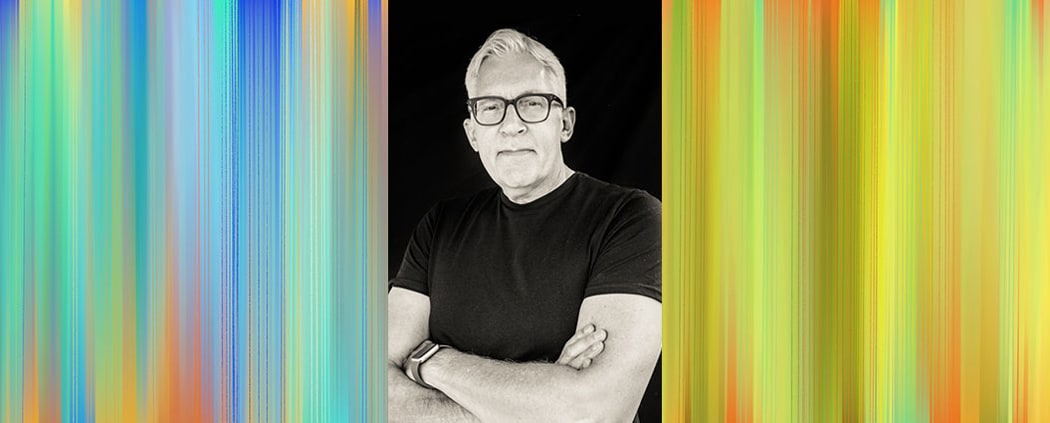 PURPOSELY POSITIVE. STOPS MADE ALONG THE WAY SHAPE MY VIBRANT ART AND ELEVATE MY OUTLOOK EVERY DAY.
ARTLESS IN MINNESOTA.
Art was not part of my background growing up in Minnesota. Attending parochial schools where the emphasis was on academic achievement and high school sports while frankly just surviving the bullying, non-supportive, and oppressive dogma took away from any joy or free mental space to contemplate art. It wasn't until I graduated from high school and started taking university-level art and design classes that I fell in love with the broader art world.
MINNEAPOLIS WAS A REFUGE FOR ME
Thankfully, Minneapolis was just about an hour drive from Mankato. I made many trips to the Walker Art Center when the new building opened in May 1971. To this day, those trips to the Walker remain one of the most influential of my life. I still think about the beautiful deep plum-colored masonry of the Edward Larrabee Barnes building and the opening show of such diverse artists and media.
DRIVING TO LOS ANGELES, TO A NEW PLANET.
Almost 10 years after graduating from high school, I made the decision to attend Art Center College of Design in Los Angeles. With a great deal of effort I tied up all the loose ends in Minnesota and headed off to LA in 1978. The best thing I ever did—as scary as that was at the time. I was naive, but really happy. I endured not having any money, pasted up Motor Cycle Product News, worked at California Apparel News in downtown LA to survive and still attended Art Center full time. Eventually I was awarded a full scholarship good for my last few semesters. I graduated with a BFA in graphic design and packaging.
I went to work literally the day after graduation from Art Center as my bank balance was zero.
I worked for a design firm near Beverly Center for two years working mostly on cruise line ship signage since I had a background in signage programs from Art Center and had worked on a sign system for the ABC News Washington DC bureau.
MOVING TO SAN FRANCISCO
After only two years of working for the Los Angeles firm, I received an offer from Landor Associates, the global branding firm, to join the San Francisco office. I was a design director for six years there and project directed many international airline projects and made many trips to Japan, Indonesia, and South Korea during that time. I still have objects that I purchased in those countries in the 80s that I refer to and they influence my work today.
In 1989, about the time of the Loma Prieta earthquake, I idealistically struck out on my own and gracefully slid into having my own graphic design and branding firm and that work ebbed and flowed for 25 years. To this day I still love so much of my firm's work. I still have much of it in my archives.
WORKING IN SILICON VALLEY. INFLUENCED BY TECHNOLOGY.
Those 25 years of managing my own design and branding firm went by incredibly fast in the San Francisco Bay Area. I don't remember the bad times so much actually. I remember being happiest when I first began working on a new branding program and created many concepts for how a company could be visually positioned. I work on my art now with that same happiness approach and try to jump from concept to concept or art piece to art piece in a sort of stream of consciousness "happiness flow."
I started working on my own art electronically about 2010. At first I experimented with drawings and paintings on small mobile devices like the iPod Touch and the iPhone but quickly latched on to using a variety of art apps on the iPad. But I hit my stride in 2015 with the introduction of the larger iPad Pro and began printing my art out using large format multi-color ink jet printers on fine art papers. I love the way color stays true to how it looks on screen and I go crazy when each beautiful print comes out of the printer.
MOVING TO SANTA FE. TO THE DESERT LANDSCAPE.
In 2014, my partner and I escaped The Bay Area fog and moved to Santa Fe New Mexico with its 300 days a year of sunny blue skies. I now realize that this was destiny and the best possible move at the time. I wound down my design firm in mid-2015 and have since focused on my own art exclusively. Having the time to think through my own art problems is a rare gift and I profoundly appreciate that. It is also amazing to have buyer/collectors love my work and understand what I am trying to achieve.
COMMITTED TO DIGITAL
I am so enthusiastic about creating art on the iPad Pro and feel I have only begun to scratch the surface of what is possible. By working digitally and producing digital pigment prints I am in a constant state of euphoria.
COLORIST. EXPERIMENTALIST. EXPRESSIONIST. GESTURALIST.
Working the way I do has powerfully and fluidly opened up a new world of possibilities for my abstract style of painting and drawing. I am moving easily from one exploration mode to the next as I work with color, gesture, and an overall spontaneous expression that flows out of me subconsciously.
ALWAYS CHOOSE HAPPY
The art on this website is mostly new since mid-2016. Almost all of it was created as my response to tuning out the divisive political rhetoric of the 2016 national election cycle. I hope that the uplifting emotional feeling that I am injecting into my work continues to evolve and that more buyers/collectors will see that and understand my intentions—and be motivated to include my art in their collections and in their environments.
SUBSCRIBE TO LANDKAMER ART NEWS.
Click below to sign up to receive Landkamer Art News.
Get advance notice of new shows, new work, subscriber-only specials, and more.