Inspiring Colors Of Locust Tree Pods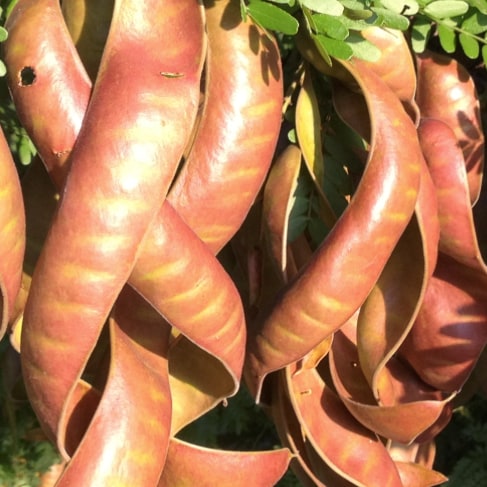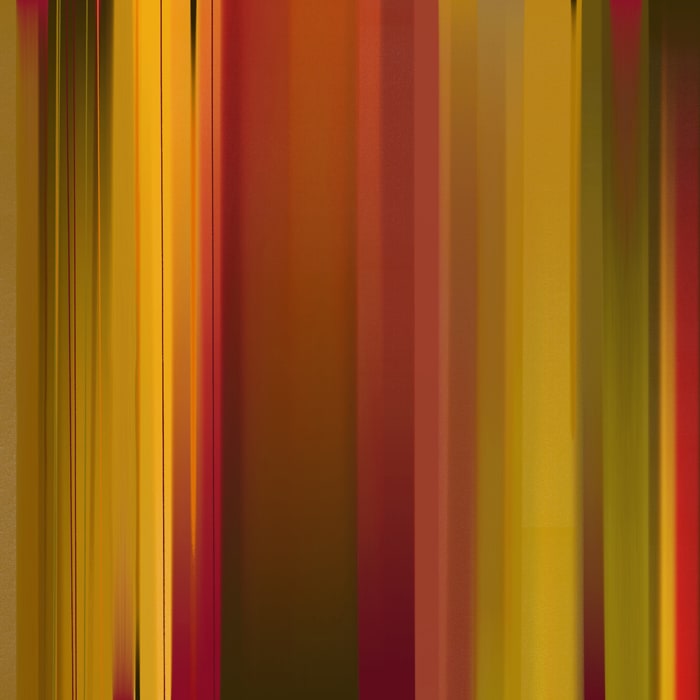 A buyer who recently purchased a print asked me to explain a bit about how I start and evolve my work.
I know many art buyers are fascinated by the artistic and creative process, so I thought I'd share where the inspiration for each of my art series, and some of my individual art pieces, comes from. This is the first in a series of posts called CREATIVE INFLUENCES, where I'll be talking about my process and what inspires me.
I think this particular Quadratic Series piece is an interesting example as it's atypical. Just by chance I picked up a Honey Locust seed pod and started a painting using the seed pod's warm, glowing colors as a springboard.
Beginning in early September the honey locust trees drop large seed pods onto the ground in great numbers along with bright sunny-yellow leaves. I had not examined the pods really until I needed to clean up a scattering of leaves on the ground in front of our Santa Fe home. I stopped to examine the pods more closely instead of just disposing of them.
DEEP MAROON, WARM BROWNS, SUNNY GOLDS
These pods have a wonderful color interplay of deep maroon, warm browns, and sunny golds. As a colorist, I responded to the overall color scheme and the unique, curly form and decided to develop a painting to add to my Quadratic Series.
I love spontaneously and unexpectedly looking at my natural surroundings and reacting to it in this way, pausing and appreciating what is in my own environment. The abundant variety of wild flowers, trees, native grasses, and bushy shrubs in our garden provide a particularly rich resource for my color world exploration.
NON-OBJECTIVE ART VS. ABSTRACT ART
Normally, with most of my art series, I don't start with a physical object to abstract from. Rather, I work in a non-objective art manner and I just explore where my emotions, color palette, and paint layers take me and the painting. In this instance, I referenced the color palette of the pod but not the physical seed pod itself. If I had, I probably would have produced a piece of abstract art, which this painting is not.
PAINTING WITH LIGHT. CAPTURING COLOR ESSENCE.
The way I work on the iPad Pro, blending color on top of color, and bringing lighter shades on top of darker shades, is literally like painting with light for me. I find it so uplifting to do and so satisfying when I complete a piece. And I think this was a perfect way to honor and celebrate the beauty of the Honey Locust seed pods, to capture their color essence.
THIS WORK MAKES ME FEEL ASCENDANT
This piece was one of the first in my new Quadratic Series. It was an attempt to pull myself out of a funk or fatigue brought on by the 2016 national election cycle. It helps me feel more ascendant, more joyous, to work this way, and the vertical strokes contribute to setting a more corrective and enriching path that continually moves upward.
I feel the end result is a painting that embodies what I try to achieve with my art. It's a synthesis or blending of my colorist sense and my emotions. The work makes me feel elevated. And it is why I paint—to feel rejuvenated, restored, and revived.
MY QUADRATIC SERIES WORKS IN GROUPS ANY WAY YOU WANT. THERE ARE 24 CONTEMPORARY ART PRINTS TO CHOOSE FROM.
SUBSCRIBE TO LANDKAMER ART NEWS.
Click below to sign up for Landkamer Art News. Get advance notice of new shows, new work, subscriber-only specials, new blog posts and more.